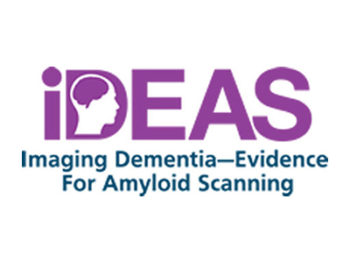 August 23, 2017 – Radiology and Imaging Specialists is taking part in the landmark national Imaging Dementia Evidence of Amyloid Scanning Trial or IDEAS Study. The data from this study will help shape Medicare's protocol for how patients are diagnosed and treated for Alzheimer's Disease and other types of dementia.
The IDEAS Study uses positron emission tomography or PET scans to evaluate amyloid plaques in the brain to determine how useful this tool is for doctors to diagnose Alzheimer's Disease. Amyloid-beta plaques are prime suspects in damaging and killing nerve cells in the brain. The amyloid plaques are deposits of a protein fragment which build up in the spaces between nerve cells. These plaques light up on PET scans of the brain, giving doctors the ability for the first time to accurately detect them in living people. Knowing if a patient has plaques growing and what size they are could lead to significant changes in patient care, including earlier counseling and prescribing better drugs to combat the progression of dementia.
Radiology and Imaging Specialists is one of just 200 imaging centers around the country that is accredited to perform PET brain scans for the study. Nearly 18,500 Medicare patients around the country age 65 and older will be enrolled in the study over a two year period. The study will collect data on patients who are currently experiencing progressive, mild cognitive impairment but don't have a formal diagnosis of dementia. It will also track the long-term care outcomes for patients who have been formally diagnosed with dementia.
The IDEAS Study is being led by the American Alzheimer's Association and managed by the American College of Radiology and the American College of Radiology Imaging Network.